5 Most Reliable Crypto Margin Trading Platforms Around
Crypto margin trading is a relatively risky type of trading. It's normally associated with intermediate and advanced traders because those people are probably skilled or rich enough to handle possible losses caused by leverage.
However, that does not mean there are no reliable crypto margin trading platforms around. Here are five of the most reliable crypto exchanges that will not add more problems and will actually make it easy for you to do trade cryptocurrencies on margin.
1- BitMEX
BitMEX
, or Bitcoin Mercantile Exchange, was founded last 2014 by Arthur Hayes, Ben Delo, and Samuel Reed. The three bankers ran the margin trading platform under HDR Global Trading Limited, their company registered in the Seychelles.
As of December 2018, BitMEX boasts a daily trading volume of 35,000 BTC, 540,000 monthly logins, and a total of $34 billion worth of Bitcoin trades since it went online.
BitMEX allows only deposits in Bitcoin, which you can use to buy several types of cryptocurrencies on the platform.
While BitMEX operates under a real registered company, it is not regulated in any jurisdiction on the planet.
BitMEX users can trade cryptocurrencies against fiat currencies of countries where crypto is popular like USD, JPY, and CNY. Its users can also trade cryptocurrencies like Bitcoin, Ether, Ether Classic, Litecoin, Ripple, Dash, Monero, and Zcash.
While BitMEX is pretty popular, the user interface isn't recommendable to beginners. Compared to newer exchanges, it looks quite old-fashioned. Though it has an unofficial Android app, the desktop platform is still its safest platform.
BitMEX offers trading of futures contracts with 100x leverage, as well as perpetual swaps, an instrument similar to futures but without expiry dates and settlement.
One of BitMEX's special features is its auto-deleveraging mechanism that ensures the closing of liquidated positions despite volatile market conditions.
2 – Deribit
Deribit
is a Netherlands-based derivatives exchange launched back in 2016 by CEO John Jansen and CTO Sebastian Smyczynski. Operating under the registered name Deribit B.V., Deribit was created to be a transparent platform for trading crypto futures and options.
Like BitMEX, Deribit is also unregulated in any jurisdiction anywhere in the world because European regulators haven't been able to create a framework for regulations. It also only accepts BTC deposits and offers 100x leverage for BTC (10x leverage for others). Deposits are free and trading fees are competitive.
Deribit allows the trading of both crypto futures and options. Options are like futures but without the obligation on the trader to buy a certain asset at a specific price during the contract period. They also offer perpetual contracts.
Compared to BitMEX, Deribit's platform is more user-friendly while still keeping a wide range of functions visible. Their trade matching engine allegedly has 1-ms latency and their cold storage stores 9%% of the platform's funds.
Deribit has web interface, iOS and Android apps, and API available for public use. Their platform integrates with trading bot software.
Finally, Deribit offers their website in different languages (English, Spanish, Chinese, Russian, Japanese, Turkish, and Korean).
3 – Bitfinex
Brand-wise,
Bitfinex
is one of the most popular crypto trading service providers in the world. It keeps ranking on top when it comes to daily volumes. Bitfinex is known for catering to intermediate, advanced, and institutional traders.
The company is based in Hong Kong and was founded in 2012 by Raphael Nicolle under the registered name iFinex Inc. They were formerly serving U.S. customers until they decided to target other markets.
Bitfinex allows certain qualified users to trade with a max of 3.3x leverage, quite smaller compared to what Deribit and BitMEX can offer. They offer margin (the loan) through margin funding and P2P financing.
Unlike Deribit and BitMEX, Bitfinex allows the deposit of different cryptocurrencies into its three wallets: Exchange Wallet, Margin Wallet, and Funding Wallet. Bitcoin, Ether, Ether Classic, Litecoin, Monero, Zcash, Ripple, Dash, and Tether are accepted for deposit.
Through the Funding Wallet, Bitfinex actually allows users to make safer investments by letting them fund the margin of other margin traders. This margin lending method earns the lender interest, which will be stored in the user's Funding Wallet.\
4- Bluebelt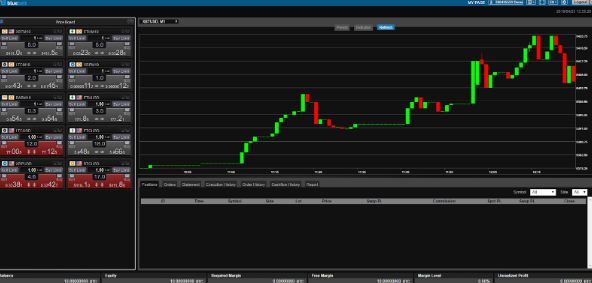 Bluebelt
offers margin trading as one of the three trading services included in its platform bundle. Led by Jack Tran, Bluebelt's founding team are seasoned veterans of traditional markets and had experience running a forex trading brokerage firm which basically offers margin trading services.
They operate under the name BBEX OÜ in Estonia but have offices in Indonesia, Vietnam, and Korea.
Bluebelt offers Crypto CFDs and allows up to 6.67x leverage. Also, it only allows fiat deposits (for margin trading, which is pretty rare in the margin trading subsector of the industry.
5- Huobi
One of the biggest crypto margin trading platforms in China,
Huobi
is known for its competitive global approach in customer service. Its website offers a multi-language platform and support. It has a web platform, an iOS app, and an Android app.
It operates in multiple countries like Hong Kong, Korea, United States, and Japan. Unlike Deribit and BitMEX, Huobi requires KYC documents during registration.
Margin traders can trade on Huobi's separate platform that is accessible by going to the Margin tab on the platform's header. There you can see the leverage allowed for each type of coin. They offer up to 3x leverage for BTC, which is pretty low.
At the end of 2018, Huobi opened its Derivative Market where it issues BTC and ETH contracts with flexible leverages (1x, 5x, 10x, and 20x). Contracts are issued weekly, bi-weekly, and quarterly.
Note: This article is not meant to be a crypto investment advice. There are licensed financial advisors who can do that for you.