10 POPULAR ICO Listing Websites TRUSTED by Global Crypto Community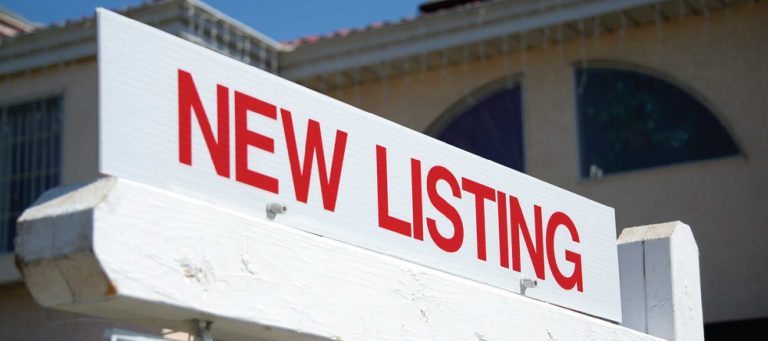 The crypto landscape can be compared to the American Wild West, a place where there is no supreme entity that imposes law and order.However, that does not mean there are no trustworthy entities that can provide you with true and reliable information that will arm you throughout your journey as an investor.This blog will give you a list of ICO review websites that offer not just quality ICO projects, but also IEO and STO projects in some cases.We suggest that you create a spreadsheet containing the information you see here and do your own research to find info that we may have missed.Let's get started!
1 –  ICOBench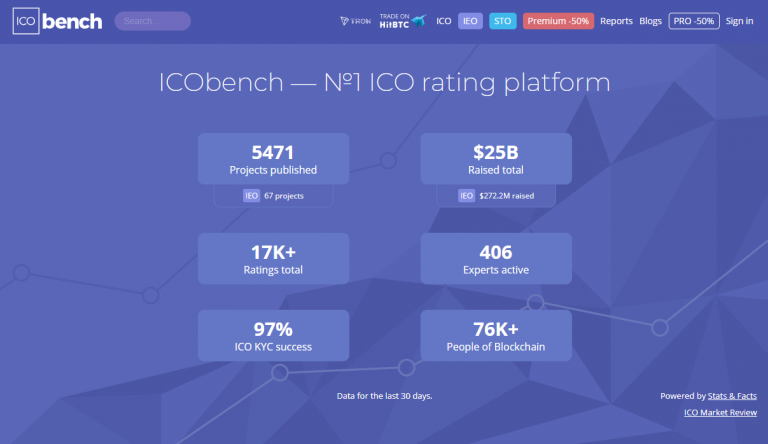 ICOBench was founded and supported by self-verified crypto and ICO experts. It offers listings for ICOs, IEOS, and STOs.It operates with a bot called Benchy that monitors and rates ICOs. It also receives ratings from its community and evaluates projects based on Team, Vision, and Product.They have crypto lawyers that offer free concise legal reviews for ICOs. They basically teach readers important information about ICOs like whitepaper content, funding methods, financing, teams, and roadmaps.ICO Bench is pretty famous, appearing in Google search results in almost any ICO keyword combinations.
2 – ICODrops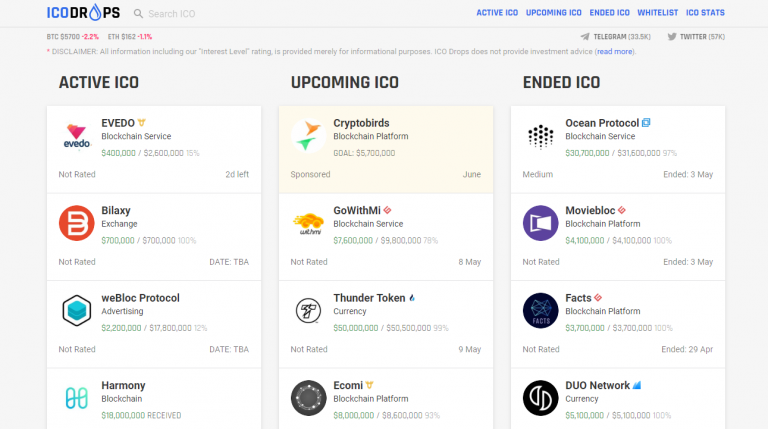 ICODrops is an ICO listing website with a simple, visually light design. They have three main ICO lists (active, upcoming, and ended ICOs) that look like kanban boards.The website measures the quality of an ICO based on Hype, Risk, and ROI. The ICO ratings on this website can range between neutral and very high.They also show you the current fundraising numbers of each project so you can determine whether the project is about to finish or not.
3 – CoinSchedule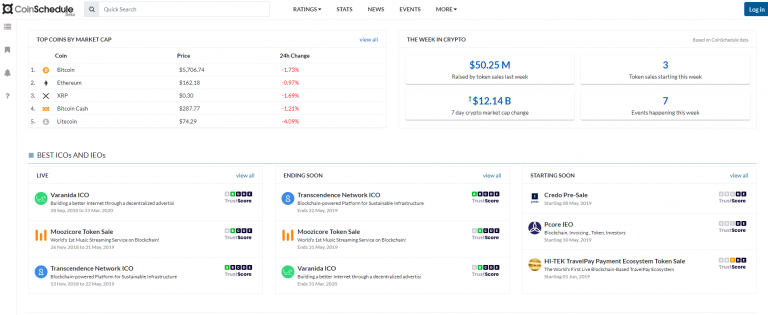 According to many old crypto enthusiasts, CoinSchedule is the original ICO and token sale listing website. However,  they are running a new beta website now with a very different layout compared to before.As the name implies, it is mostly concerned about dates and schedules. They also offer a detailed, regularly curated list of crypto events and news about large-community cryptocurrencies.CoinSchedule's credibility is well-attested because they source their information from ICOs' official website, forums, chatrooms, whitepapers, event attendances while interpreting the news in an easily digestible format.They are also known for educating people about ICOs and fighting off scammers.
4 – TokenMarket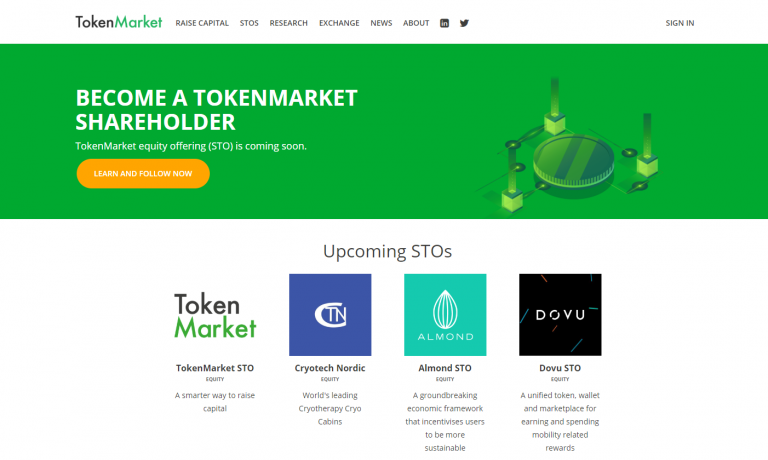 TokenMarket is a platform for token listings and funding of decentralized tech projects. They publish news and manage one of the few ad-free ICO calendars in the industry.They also offer exchange services and a crowdsale platform for blockchain assets.TokenMarket one of the few (if not the only) listing websites that offer their security token, which will be sold on their upcoming STO.
5 – CoinCodex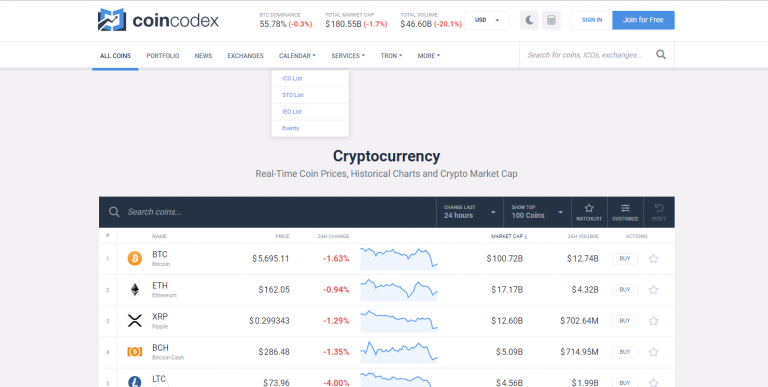 CoinCodex is an ICO, IEO, and STO listing calendar website where you can view essential information about token sale fundraisers as well as the technology behind featured decentralized platforms.One advantage CoinCodex has over other listing websites is their mobile-optimized user interface, making it easy for users to view their content anywhere, any time.
6 – ICOMarks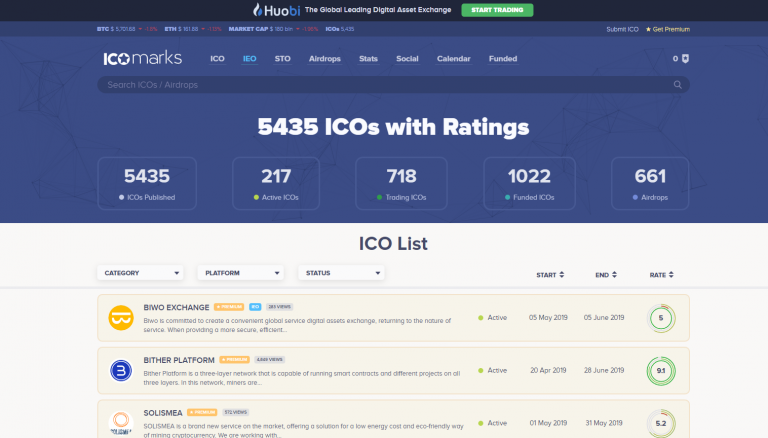 This is an independently run platform for ICO analysis and research. They offer listings for ICOs, IEOs, STOs, and Airdrops.Aside from information on ICO coins, ICOMarks also uses a tool that track the stats of tokens that are already being traded in different exchanges.They also keep track of the coin team's performance in their own social marketing efforts.
7 – ICOBazaar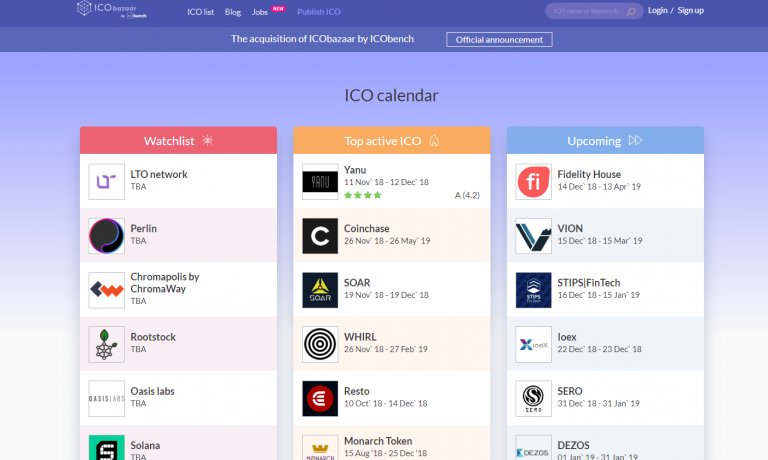 ICOBazaar lists and rate upcoming, ongoing, and finished ICOs as well as show the general dynamics of the crypto market through their MetaIndex, an index that tracks cryptoassets. On their menu, you will see their Jobs section where you can look for job opportunities in the growing industry.Recently, they have been acquired by ICOBench as well.
8 – Smith & Crown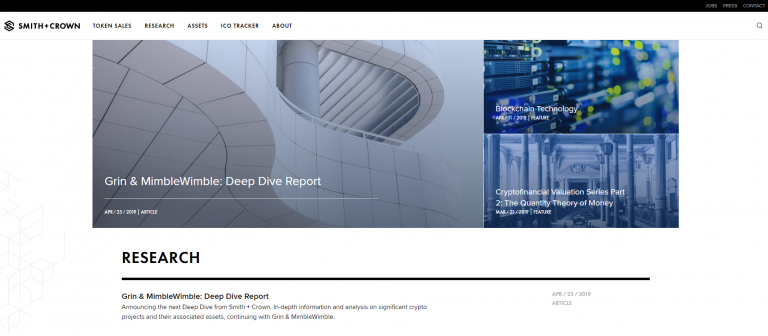 This website was created by a research group that focuses on cryptofinance.They tell full stories about technologies, projects, global strengths, cryptoeconomics, and industry intelligence.In terms of sheer educational content quality, Smith & Crown probably has best content, targeted specifically for people who want to be crypto experts.
9 – ICO Champs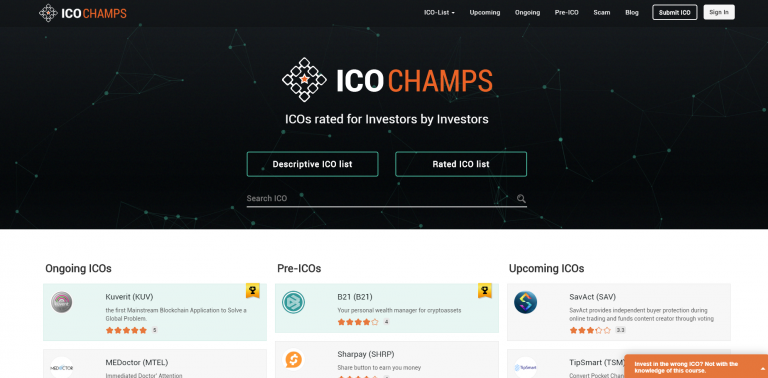 This ICO listing website lets investors rate ICO projects for their fellow ICO investors.They offer descriptions and rating of ICOs, as well as transparent lists of Pre-ICOs and scams.This website focuses on brevity, focusing only on the most frequently asked questions by investors.
10 – CoinGecko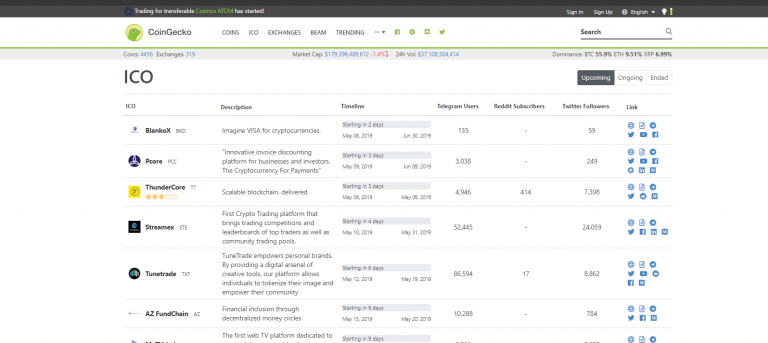 CoinGecko is generally a crypto information website. Its main listings consist of the Cryptocurrency List, ICO List, and Exchange List.Their ICO list contains essential project information like ICO timeline, number of Telegram community members, Reddit subscribers, twitter followers, and social media profile links.Based on this information, you will notice that CoinGecko checks the credibility of in terms of community size and activity.